Intelligent, Custom Controls
Using the very latest in processor technology, the 5511/6611 delivers a color touch screen interface, simple user screens, easy configuration and Drop-In Functionality for all types of fill-by-weight and checkweigh applications.
---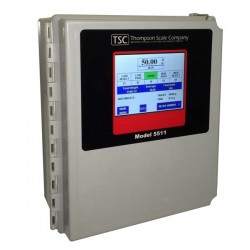 Fully integrated controller for operating your fill-by-weight packaging machinery or in-motion scale, as an addition to a new machine, or upgrade to existing controls.
...Learn More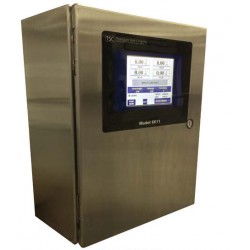 This controller is effectively the same as the 5511, with 3 distinct differences...
...Learn More
Why our Programmable Weighing Controller?
The 5511 has the I/O, Intelligent Control, and experience to handle your filling or weighing application like no other device on the market. As a board-level solution connected by Ethernet IP to your PLC, or a complete enclosure with terminals, switches and display for single or multiple head fillers or checkweighers, the 5511 does the job.
Connect, Configure, Control
Manage your connections to the 5511/6611 Weighing Controller via RS-232 or RS-422 or Ethernet TCP/IP. All ports are onboard and offer full bi-directional communications. Defined command sets allow for recipe entry, data output, saving settings and uploading the latest programs and fixes. Data is the second most important function of any scale. The 5511/6611 provides a variety of data configurations, with configurable protocols and easy on-screen settings for defining IP addresses. Optional Ethernet IP ports provide a direct connection to Allen-Bradley's® line of PLC's. Optional analog ports can provide proportional control of servo-driven feed gates and valves.
One controller – all programs. The 5511/6611 contains all the programs required to run your filling or in-motion weighing applications. The 5511/6611 main board contains hard-wired address jumpers that set the controller's identity. Select Net Weigh Filler configuration, and all the associated sequencing and I/O are there. Settings for timers, interfaces, interlocks, etc., all exist within each specific filler or weigher type. One box – many solutions.
Intelligent control of your filling and weighing process is included. Set points, both automatic and manual are available, settings for optimum response time, filtering and averaging are there. We Know Fill-by-Weight. Thompson Scale's 40 years of experience operating virtually every type of filling process has been built into the 5511/6611. Our experienced technical staff gives you the support you need to gain the best possible performance and gain market share in your industry.
Commonly Asked Questions
What is a 5511 Filler Controller and what is it used for?
A 5511 Filler Controller is a piece of computerized equipment, pre-programmed to operate and control "fill by weight" filling machines.
The hardware includes a CPU to control the fill sequence, I/O cards to monitor and operate the field devices associated with filling containers, and some Operator Interface (like a touchscreen) to monitor and control overall system operations.
Can the 5511 Filler Controller be used to operate and control any filling machine?
Almost, the 5511 Filler Controller offers specific programming sequencing required to operate virtually any filling machine, like Gross Fillers, Auger Fillers, Air Packers, Impeller Fillers, Net Weigh Fillers, Drum Fillers, Box Fillers, and more
Why are the fill weights erratic on a 5511 Filler Controller?
Make sure the system is properly calibrated and load cell scale assembly is responsive and repeatable.
Fill change-over and cut-off points of the current fill are calculated based on the flow rate of product on previous fills.
So check the flow rates (Main Menu/Tools/Filler Controller Setup menu) and review operation of the feed system.
The general idea is to keep a constant amount of product in the supply bin so that product flow does not vary much between fills. Also, compare flow rates from good channels versus channels that are having weight issues.
Why is the touchscreen on a 5511 Weighing Controller locking up or not responding?
The operational files on the touchscreen can become corrupted and the touchscreen needs to be recalibrated. Refer to attached files, describing the recalibration procedure.
What kind of data is available from the 5511 Filler Controller?
Data is transmitted via RS-232, RS-422 and Ethernet TCP/IP.
By default we always transmit the weight value.
Other data fields that can be enabled include time/date stamp, pass/fail bit, total units, and target weight and lower and upper reject values. Data is transmitted as weights occur, and are not stored in a file for later download.
We also offer an Ethernet IP port as a purchase option. This EIP port interfaces directly with Allen-Bradley's line of PLCs, and gives the user total access to all configuration and data settings within the 5511 Filler Controller. The user can create and upload recipes and monitor data and health of the 5511 Filler Controller.
How do I collect data from the 5511 Filler Controller?
We offer a few choices for data logging.
The #930 data logger is the least expensive option, and is hardwired to the serial port within the 5511 Filler Controller. Weights are logged to a thumb drive that the user can then remove and load into their PC. The data files are in a CSV format, so are compatible with spreadsheet programs.
SPPC Lite is a software solution that loads on the user's PC and connects to the scale controller via their TPC/IP network. See more about SPPC Lite here.
StatPak-PC II is our most highly-integrated data logging and reporting software solution. Read more about it here.